Journey to the center of the global English debate

Why 'centre' will now sometimes be 'center' in the Guardian. And good news for the Indian Ministry of Railways
The Guardian November 21, 2014
It's the fourth-tallest building in the world, and it's not called 'One World Trade Centre'. Photograph: Mike Segar/Reuters

If you read the Guardian's recent story about the opening in New York of the tallest building in the western hemisphere, did you notice the headline? The newspaper version was "Manhattan transfer: workers move into One World Trade Center"; online, it was "One World Trade Center opens for workers, 13 years after 9/11".
So far as I know we didn't get any complaints, even from the most diehard British readers, so I assume everyone was happy with our decision to use American spelling. Good, because you'll be seeing more of it.
To quote a new entry in the Guardian style guide:
In the case of proper nouns, we now follow the spelling used in the relevant local variety of English (normally British, American or Australian). Examples: Centers for Disease Control and Prevention, Department of Defense, Labor Day, One World Trade Center, Australian Labor party.
Why the change? Well, the old argument that "the Guardian is a British newspaper so we use British spellings" has served us well but no longer holds; we remain a British newspaper but one with many more readers outside the UK, especially in the United States. "Translating" World Trade Centre, as we used to do, is simply inaccurate: that's not what it's called. Readers who can cope with, say, Académie française should be able to manage the occasional "center".
In addition, the new style is consistent, because we have long followed US spellings for placenames, film and book titles. For example, we would already write "the harbour at Pearl Harbor offers an arbour rarely seen outside Ann Arbor" or "the colour purple features only briefly in The Color Purple". So if we say "the attack on the World Trade Center put the Department of Defense at the centre of the country's defence" it makes perfect sense to me and, I hope, to you.
A related change:
Where spelt in English, in whatever country, government departments now take an initial capital, as is already the case in the UK.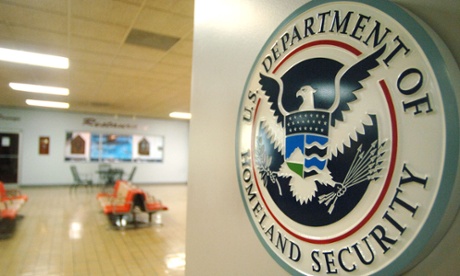 A US Department of Homeland Security sign hangs in an empty terminal at the Tri-State airport in Ceredo, West Virginia.

Photograph: Jeff Gentner/AP
In other words, the US department of defence has – literally overnight – become the Department of Defense. There's good news, too, for institutions as geographically and politically diverse as Fisheries and Oceans Canada, Australia's Department of Immigration and Border Protection and the Indian Ministry of Railways.
This change has been driven by the growing realisation that it can appear insulting or demeaning to Guardian readers outside the UK to see their government bodies rendered in lowercase when we do not do the same for British ones.
As now, government departments – wherever they are, including the UK – lose their capitals when a paraphrase or abbreviation is used instead of the proper name: communities department, homeland security department, Canadian fisheries ministry, and so on. This also applies to departments in non-English-speaking countries which are, after all, translations: so the Ministère de la Défense remains the French defence ministry. As ever, we don't much care for alphabetti spaghetti and reserve capital letters for when they are necessary. When writing aboutCornish pasties, for example.
If this all sounds arcane, I can only reply that our readers care deeply about such things. (This blogpost by Maraithe Thomas of our New York office on the difference between, among other things, "ass" and "arse" attracted 1,594 comments.)
Today's amendments to the style guide – whose editing team now includes journalists in New York and Sydney, as well as London – reflect a lively debate that has been taking place among Guardian staff and with our readers. The dialogue will continue. There will, no doubt, be further changes.
But as my colleague Warren Murray in Australia wrote: "More important than spelling or differences in grammar is that we all think about writing in a way that makes our work comprehensible and accessible to the broadest possible audience."
The Guardian is written in Standard English. (Well, most of the time.) The point of Standard English is that it can be understood by English speakers anywhere in the world – from York to New York, from Melbourne to Mumbai. The language we use is important only because of what we have to say.